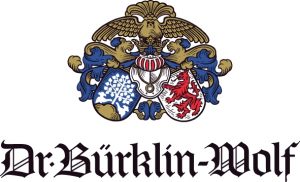 The history.  In its canonical version, the history of Weingut Dr. Bürklin-Wolf begins in 1597, more or less exactly where its cellars are found today. Its putative founder, Bernhard Bürklin (1580-1636), scion of an already well-established family of Bavarian clerks, came to Wachenheim from elsewhere, probably from Durlach, the seat of the Markgrafschaft of Baden-Durlach. Within a few years of his arrival, Bürklin became Wachenheim's town clerk, and later, its mayor. In 1606 he built a house in Wachenheim; the family crest and date are still found on the oriel of the house at what is now Weinstrasse 15. Whether Bürklin also bought agricultural land in or around Wachenheim, or planted vines, is unclear. The historical record grows even murkier after about 1720, as the Thirty Years War (1618-1648) swirled around Wachenheim. The town was occupied twice, and at least once its surviving population fled for safety to a castle in Bad Durkheim. It is known that crops were repeatedly destroyed and land ownership was made chaos throughout the Rhine basin. Some Bürklins may have remained in Wachenheim over this long period; some may have left and returned; again, the record is not clear.
Fast forward two-plus centuries. In 1875, Albert Bürklin (1844-1924), a young lawyer from Durlach – definitely Durlach this time, now part of burgeoning Karlsruhe about twenty kilometers east of Wachenheim — married Luise Wolf (1847-1925), the granddaughter of a prosperous Wachenheimer. Luise brought to this marriage an enviable accumulation of fine vineyard parcels in Wachenheim, Forst and Deidesheim that she had inherited from her grandfather Johann Ludwig Wolf (1777-1840), who was both a celebrated vintner and a wealthy banker. These parcels were foundational for Bürklin-Wolf, the couple's new business. From the moment of its creation, it was the largest wine estate in the Pfalz since Andreas Jordan's even larger estate was sundered following his death in 1848. Albert Bürklin moved to Wachenheim at the time of his marriage, and lived there the rest of his life, functioning as the active chief executive of the new business, while also making philanthropic gifts to the town. His roots in Durlach-Karlsruhe also remained strong, however. His "city" residence there is said to have been a focus of local cultural life, while a personal passion for the theatre led to his appointment as the Generalintendent des Hoftheaters. He was also one of the most prominent politicians of his generation, made Abgeordnete of the Reichstag in 1877 and its vice president in 1893. If Bernhard Bürklin's connection to Wachenheim and to wine at the turn on the 17th Century are prologue to the story of Bürklin-Wolf, the lifetime of Albert Bürklin was its first chapter. (Note that an honorary degree conferred on Bürklin by Universität Freiburg was reflected in the estate's official name after 1875; thus Weingut Dr. Bürklin-Wolf.)
A second chapter began after the aforementioned Albert Bürklin's death in 1924, when the estate passed to his grandnephew of exactly the same name. (For clarity Albert Bürklin [1844-1924] is often glossed as Abgeordneten Albert Bürklin, while Albert Bürklin [1907-1979] is glossed as Ökonomierat Albert Bürklin.) Neither the law, nor politics, nor cultural administration competed for the latter's attention; apart from military service during the World War II, he was first and always a winegrower. Beyond his own estate, however, he worked tirelessly for the common good. He was a founder of the Naturweinversteigerer der Rheinpfalz, which later morphed into the Pfalz chapter of the VDP; an early supporter of Rudolph Steiner, the mind behind biodynamics; and a tireless advocate for the qualitative reconstruction of Germany's wine industry after the war. In 1962 he arranged the sale of his estate's non-viticultural properties so that he and it could focus entirely on wine. He purchased modern presses, stainless steel tanks, and a new generation of large-format Doppelstücke. Before Müller-Catoir (under the leadership of Hans Günter Schwarz) became the regional mecca of choice for newly minted winemakers, it was Dr. Bürklin-Wolf that made sure to offer on-the-job training to apprentices and practitioners from across Germany and elsewhere, building a list of more than 400 alumni across the wine world. For his efforts on behalf on German viticulture, Ökonomierat Bürklin received numerous awards, not least the Bundesverdienstkreuz of the German Federal Republic in 1967.
The most recent chapter in this multi-generational epic began in 1990, when Ökonomierat Bürklin's oldest daughter Bettina Bürklin-von Guradze took the reins of the estate, armed with a diploma in enology from Geisenheim. In this chapter the estate consists of more than 100 hectares of vineyard distributed across Wachenheim, Forst, Deidesheim and Ruppertsberg, of which about 80 are cultivated to produce estate wines, while the balance are rented to other winegrowers.   Riesling accounts for more than three quarters of gthe estate's total production, but there is also serious attention to Pinot Noir – in fact Pinot was the reason for my first visit to this estate in 2001. Planted surface includes vines in Forst's most iconic sites, notably Pechstein, Kirchenstück, Jesuitengarten and Ungeheuer; and in similarly iconic sites in Deidesheim, notably Kalkofen, Hohenmorgen and Langenmorgen. Gaisböhl, an exceptional monopole in Ruppertsberg, anchors the estate's south end, while no fewer than 24 hectares are planted in classified vineyards at its north end, within the town limits of Wachenheim. The estate also occupies historic buildings, 19th Century gardens and extensive cellars in the heart of Wachenheim, a second Vinothek in Deidesheim, and a comfortable farm-to-table restaurant in Ruppertsberg. Notwithstanding her Geisenheim qualifications, Bettina Bürklin-von Guradze is not the hands-on winemaker, nor its general manger, but instead its gracious leader, its face to the world and its tie to four hundred years of history. The hands-on winemaker is cellarmaster Nicola Libelli, trained at the Instituto di Frutti-Viticoltura at Piacenza in Italy, and at Geisenheim, broadly experienced in Spain, California and Australia before landing at Dr. Bürklin-Wolf in 2011. Libelli is emblematic of the effortless cosmopolitanism that suffuses this fine estate, cellars filled at harvest with interns from all over, its main tasting room staffed by a genial Englishman who came to work the harvest here in 1991 — and never left.
More or less immediately after taking the reins in 1990, Bürklin–von Guradze cut yields, invested again in cellar equipment, focused the estate overwhelmingly on Riesling, and embraced "full, rich and dry" as the house style. To achieve dry wines reliably without resort to commercial yeasts, the estate also worked to isolate naturally-occurring yeasts from its best vineyards, especially Pechstein; today this yeast is also used by neighbors like Reichsrat von Buhl. In 1994, having discovered a tax map drawn in 1828, Bürklin-von Guradze and her husband began a reassessment of the estate's vineyards, establishing which were its best sites, finally settling on a estate-specific classification that designated 12.5 ha of its best parcels as G.C. (a silent but obvious tip of the hat to the grands crus of Burgundy) while 24 ha in a second tier were dubbed P.C. for premier cru, the classification visible as nine G.C. bottlings and six P.C. bottlings effective with the 1999 vintage. The work turned out to be both prophetic and seminal, the first shot, as it were, in a campaign by Germany's quality-oriented producers to undo the damage caused in and after 1971, when German wine law certified must-weight rather than terroir as the main determinant of wine quality. Neighbors were inspired by Dr. Burklin-Wolf's initiative; within a few years VDP groups in several regions were busy classifying vineyards on the basis of old tax maps; within a few more years Grosse Lagen, Erste Lagen and Grosses Gewächs were the talk of the land, and generally accepted yardstick of quality. At Dr. Bürklin-Wolf, attention meanwhile shifted from the classification of sites to protocols that could enhance the expression of each site – like biodynamics.
The wines.  Winemaking at Dr. Bürklin-Wolf today is straightforward, although tolerance for botrytis has a higher threshold here than in neighboring cellars. Fruit is pressed as whole clusters. Fermentations rely on naturally-occurring yeasts, or on selected yeasts isolated from estate vineyards, see above. Village wines are fermented in stainless steel; P.C. and G.C. wines ferment in wood. Relatively warm fermentations (up to 18 C°) are tolerated. The wines are first racked about three months after primary fermentations have finished, and then again before bottling, which takes place in early spring for most wines, though G.C. wines are not bottled until July after the vintage.
The best news about Dr. Bürklin-Wolf is the wine that fills its bottles. I tasted twelve dry Rieslings here in June 2017, representing variously the 2016, 2015 and 2014 vintages. Without exception these were fresh, cool, precise, wines that showcased their individual terroirs, expressing their herb and fruit components distinctly, often in layers; they were elegant, well-bred, slightly round, and ample, but neither challenging nor effusive.  Alcohols were very well-controlled, Gutswein and Ortsweine hovering around 12.5°, while the Lagenweine were closer to 13°. The 2016 Gutswein (Riesling Trocken), mostly from Wachenheim vineyards, was bright with a lemon-herb edge and attractive tension. Village wine from Ruppertsberg (2016), reflecting deeper and loamier soils, was more fruit-driven than its cousins from Deidesheim (2016) and Wachenheim (2015), which showed more citrus, white stone fruit and the textural properties we often describe as "minerality." The Wachenheim wine qualified as a personal favorite in this category: alive with texture (imagine fruit peel and apple skin), almost piquant, racy and very pure. Moving on to the P.C. wines, the Ruppertsberger Höheburg 2015 was rich, velvety and borderline opulent, while P.C.s from Goldbächel and Böhlig, both southeast-facing slopes just south of Wachenheim, showed fruit-pit flavors. These wines, from adjacent vineyards, are always a study in differing terroirs. In this tasting Goldbächel was the rounder and Böhlig the leaner, the latter finishing salty with just a touch of cream. This difference reflects a difference of soil types: Goldbächel sits on a base of sandstone and sandstone debris while Böhlig surmounts a partially calcareous base. Goldbächel is a 1.6 ha site planted in 1991; Böhlig is about three times its size with vines that average four years older. It should be noted that Bürklin-Wolf's P.C. wines are exceptional value-for-money. They are distinctive, terroir-specific, admirably complex and substantial, but sell for less than half the price of most of the estate's G.C. bottlings. Moving now to this final category, Gaisböhl, previously mentioned, is a monopole in Ruppertsberg. The 2015 edition of this wine was lively and mineral, showing lime pith, summer herbs and salt. Even in loamy Ruppertsberg, a top quality site can and does show much more than fruit. For contrast there was also a 2015 Hohenmorgen G.C. Hohenmorgen faces south across the roofs of Deidesheim to Ruppertsberg, its soils a mix of loam with sandstone, and limestone detritus over calcareous substrata. Dr. Bürklin-Wolf's parcels in Hohenmorgen give fine-grained, elegant, and thought-provoking Rieslings of which the 2015 is a textbook example.
In the States, Dr. Bürklin-Wolf wines are available in several markets via local distributors, but there is no national importer. Since each distributor makes its own selections from the total portfolio, available wines may differ from market to market. Consider contacting Yountville Wine Imports in California, A. H. D. Vintners in Michigan, Verity Wine Partners in New York, Lemma Wine Company in Oregon, or Southern Wine and Spirits in Florida for additional information. Meanwhile, visitors to the Mittelhaardt will find fine hospitality and good tasting in the estate's two Vinotheke!