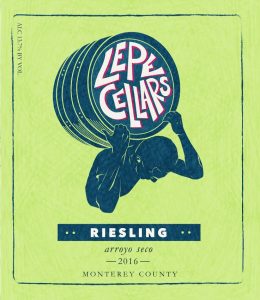 Miguel Lepe explains that he makes Riesling for his eponymous label "because of Claiborne & Churchill." Claiborne & Churchill (see Riesling Rediscovered, pp. 326-28) is the original aromatic white specialist among California producers, focused as early as 1983 on Riesling and Gewurztraminer. Lepe, born in Salinas, now the owner and winemaker at Lepe Cellars, interned there in 2009 while earning a degree in Wine and Viticulture from Cal Poly San Luis Obispo.
Lepe calls himself a "millenial Hispanic."  This is now the largest age cohort within the largest ethnic population segment in California. He is, however, by no means typical. He belongs to the first generation of his family to be college-educated. He had essentially zero experience with wine as a beverage – neither he nor his parents consumed much alcohol –when he chose vine growing as an elective to complete the requirements for an A. S. degree in Business Administration at Hartnell College in Salinas. To explain this choice, Lepe says simply that he "liked plants and gardening." Out of the vineyard and into the cellar, he was gradually hooked; for him "the smell of wine fermenting" was mesmerizing. In 2009, A. S. degree in hand, Lepe transferred to Cal Poly's program in Wine and Viticulture. In addition to Claiborne & Churchill he worked harvests and internships across a large swath of land, heading a few miles north to Justin in Paso Robles, south to Waters Edge Wineries in Rancho Cucamonga, and eventually farther south by almost 3000 miles to cool-climate-oriented Casas del Bosque in Chile's Casablanca Valley. Drawn back to the area around his Salinas home in 2013, he was handed a full-time job at Figge Cellars on the strength of a single interview. In a remarkable turn of fate Peter Figge (1970-2017) then became Lepe's boss and mentor, encouraging and enabling him to create his own brand in 2015, to be made side-by-side with Figge's, in part of a business park recently remade as a wine ghetto in Marina, a sprawly seaside town tucked between what was Fort Ord and the artichokes of Castroville. Lepe's 2015 and 2016 vintages consisted of just one ton each of five varieties: Chardonnay, Zinfandel, Petit Verdot, Syrah (for rosé) and Riesling, enough to make fifty cases of each. In 2017, production of each wine doubled to 100 cases of each, thanks in part to a successful Kickstarter campaign. More recently he has "teamed up with new Monterey vineyards" to help grow his fledgling business.
Lepe sources the grapes for his Riesling from Luis Zabala's meticulously farmed vineyard in Arroyo Seco, just south of the pioneering plantings begun ca. 1971 at Ventana. The Riesling at Zabala was mostly planted in 2007, in the deep alluvial gravel typical of the area. To execute his take on Riesling, Lepe has created a pick and cellar protocol that seems simple at first blush, but is not. He likes Zabala qua site for its "very good acids," by which he means acids that high enough and strong enough to handle his circumstances and preferences. The former include very small lots and barrels as fermentation vessels; the latter includes an affinity for some malolactic conversion; "personally," he explains, "it's better to start with more acid than not enough." At the same time, Lepe is one of many Riesling makers around the world who prefer a dry wine persona overall, but still worry that the wine may turn out a bit too lean if it contains no residual sugar at all. Lepe trusts his palate to find the golden mean, which may vary from vintage to vintage. So his protocols are roughly as follows. First, he picks Riesling twice, once between 19 and 20 Brix for acid and structure, then again around 22 Brix for a bit more ripeness and fruit expression, the combination giving him a "broad sensory profile" — and two (rather than one) fermentation lots in each vintage. Two of anything creates a blending opportunity. He prefers whole-cluster pressing to pre-fermentation skin contact. He settles the juice overnight in a stainless steel tank before transferring it to "well used" barrels for fermentation. (Lepe notes that "well-used" barrels are all he can afford; a good thing in my view, since Riesling is too naturally flavorful to need makeup!) At this point, things get really interesting. He co-inoculates the settled juice with a combination of yeast (Assmanshausen) and malolactic bacteria. Although malolactic conversion was normal in Riesling a century ago, a natural concomitant of multi-year élevage in large wooden tanks, few makers encourage it today, and most block it completely. (There are notable exceptions, of course, e.g., Zind-Humbrecht and Peter-Jakob Kühn, see Riesling Rediscovered, pp. 188-90 and 199-200.) For Lepe, ML is an important part of his toolkit. While the Assmanshausen ensures a strong (and relatively slow) fermentation capable of carrying the wine to full dryness, the ML bacteria transforms part (but not all) of the grapes' sharp malic (apple) acid into softer lactic (milk) acid. But because Lepe also seeks to avoid the normal signatures of malolactic conversion — think butter and popcorn – he proactively starts and stops the malolactic conversion simultaneously with the primary fermentation.  And he uses a strain of bacteria that does not produce diacetyl – diacetyl being the compound responsible for the aforementioned buttery aromas in most ML-converted whites. In 2018 Lepe added yet one more parameter to his protocol. He slowed the speed of the primary fermentation by moving the Riesling barrels to a temperature controlled space within the winery where he could set the ambient temperature at 45°F.  The cooler temperature gives him more time to taste the unfinished wine and react, should he wish to arrest the primary fermentation before the last grams of sugar are turned into alcohol. Once dry (or stopped as the case may be) and racked, Lepe likes to leave the new wine on its fine lees for 4-5 months, to gain complexity and texture and to avoid any impression of "linearity," and he generally stirs the lees once every two weeks. The twin fermentation lots generated by the two-picks protocol remain separate until about two months before bottling, when they are reunified. Sulfites are used parsimoniously, "just enough to keep things sound."
With his fourth vintage now in the cellar, Lepe's finished Rieslings have varied noticeably from one vintage to the next. My experience is limited at this point to the 2015 and 2016, both of which are current. The 2015 (tasted in 2018) is a good wine, fruit-forward, round at mid-palate, redolent of resinous herbs. It is not entirely dry, containing about 12.5 g/L of residual sugar. By contrast the 2016 Riesling is almost bone dry and (to my palate) very impressive.   Pale straw in color, chamomile and lemon peel on the nose, citrus and pear on the palate, this is a taut, textured and long-to-finish wine with nice energy, intense flavors, and herbal accents of tarragon and summer savory. It is also extremely well priced at $22 per bottle. I look forward to tasting the 2017 when Lepe is ready to release it, and the 2018 in due season. The week after Christmas 2018, Lepe reported the 2018 still fermenting slowly, with about 8 g/L of sugar remaining. "I am aiming for as dry as I can," Lepe wrote me, "but my decision will be based solely on taste."
Lepe has attracted some attention for his unoaked Chardonnay, which has medaled in competitions, but the Riesling still flies a bit under the radar. For now, this suits Lepe quite well, giving him a product that can be sold in the tasting room he hopes to open sometime in 2019. For further information about Lepe Cellars, visit www.lepecellars.com.