Sometimes epiphanies come in pairs. In April of this year, on different days in different places, I happened to taste two American dry Rieslings of vastly more than routine interest. Each pushes the dry Riesling envelope in a distinctive way, with surprising results that I report here.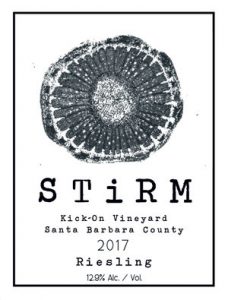 Stirm Los Alamos Valley Riesling Kick-On Ranch "eøølian" 2016
A special lot of Riesling from the Kick-On Ranch in Santa Barbara's Los Alamos Valley; see Riesling Rediscovered, p. 333-335 for details on the vineyard. Ryan Stirm of Stirm Wine Company, about whom more is found in an earlier post on this site (http://www.oenosite.com/is-a-riesling-renaissance-beginning-in-california-chapter-1-ryan-stirm/), enjoys pushing vinous envelopes of many kinds. In 2016 he elected to experiment with a zero-sulfur protocol for part of the fruit he takes from Kick-On, dubbing it Kick-On "eøølian."  Half of this lot was sold in kegs to high-end on-premise establishments where keg wines by the glass have good visibility. Visibility aside, kegs can be advantageous when sulfur has been excluded from winemaking; not only are keg wine sold through quickly, but inert gas automatically replaces wine as the latter is removed, avoiding oxidization. The rest of the lot was bottled conventionally. My notes: Aromas of lemon and straw. A cornucopia of citrus, pear, apple and melon flavors on the palate is punctuated with sabers of minerality. A combination of malolactic conversion, long lees contact and abundant (ripe) acid creates rich texture, tension and a long bone-dry finish. This wine is persistently exciting from first sniff to last drop. 11.4°! Note that Stirm's "classic" vatting from Kick-On in the same vintage is also excellent. Without the eøølian for comparison, the classic cuvee would have been impressive enough.  In comparison, however the eøølian soared, showing exceptional purity, precision and jump-from-the-glass excitement.  My notes on the classic cuvee follow: Macerated yellow flowers and yellow plum buttressed with citrus pith and a tense structure, and delicious, and a friendly 12.9°.  Chalk up a goo example for the folks who have often said that "natural" wines display a brilliance lacking in their sulfured siblings.
Weinbau Paetra Eola-Amity Hills Riesling "Elwedritsche" 2016
This wine has nothing in common with the Stirm except that it is exciting, and pushes the envelope for dry Riesling. This is an  Eola-Amity Riesling dubbed "Elwedritsche." The grapes come from Methven Family Vineyards at the northeast corner of the AVA, whose cellar also happens to be home to Weinbau Paetra, the creation of Bill Hooper and his family. Hooper personally farms for Methven the vine rows used for Elwedritsche and other Rieslings; he insists on this, so that he can grow grapes as he wants them for his wines. (Elwedritsch, for the curious, is the name for a possibly mythical, possibly extinct gallinaceous bird said to inhabit [or to have inhabited] woods on the east flank of the Haardt Mountains in the German Palatinate, just north of Alsace. There is even a museum dedicated to this creature in Speyer, a historic city on the Rhine in the Palatinate.) Hooper learned winemaking not far from this habitat, at Fachschule für Weinbau und Oenologie in Neustadt an der Weinstrasse, between 2009 and 2012. While a handful (or two) of Americans have studied at Geisenheim over the years, Germany's highest-profile wine school and research center, Hooper is one of only two to have completed the entire curriculum at Neustadt, including associated apprenticeships, one of which was worked with the talented Andreas Schumann, the mind behind Weingut Odinstal (http://www.oenosite.com/wachenheims-secret-vineyard-odinstal/). How an American from the upper Midwest was launched on this trajectory — which took him through wine retailing in Minnesota to a special interest in Riesling, then to a German girlfriend who became his wife, then to Germany for the aforementioned studies, and finally to Oregon — is too long a story to tell here, where the point is Elwedritsche-the wine. There were only 88 cases of this wine made in 2016, but it is a tour de force. It begins with a deep, rich nose of yellow stone fruits, especially apricot. The palate is intense and concentrated, laced with spicy fruit, ginger and mint, and it tastes clean, with no bitterness, though it makes a poly-phenolic impression. It is also intentionally evocative of the Palatinate (Pfalz) – dry and stone-fruit-driven as these wines typically present — but with an exceptionally powerful personality. The must macerated on the skins for 24 hours before fermentation, which is long by Pfälzisch standards; thereafter there was neither added yeast, nor enzymes, nor fining agents of any kind, and only modest additions of sulfur.   Although the alcohol is modest at 13°, acidity substantial at 7.5 g/L, and residual sugar low at just 4g/L, this is a powerful wine, to be savored, discussed and remembered, but perhaps paired cautiously with food. It is also a bold indicator that very serious Riesling has been grown and made at Weinbau Paetra since 2014. Volumes are tiny, quality high and prices very reasonable. 'Nuf said. (http://www.paetrawine.com)