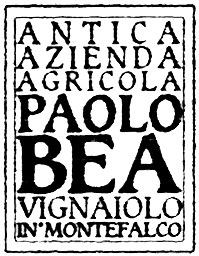 Umbria, central Italy's only landlocked regione, has a sub-prime reputation for very good wine. There is reasonable evidence that "traditional" Orvieto, made sweet, may have been exceptional in the 19th Century, but that reputation seems not to have survived the subsequent reinvention of Orvieto as a mass-market dry wine in the 20th. Recently, some observers have offered more positive assessments of Umbrian wine, pointing to vintners like Georgio Lungarotti and Arnaldo Caprai, who are deemed to have boosted regional standards in the final decades of the 20th Century.  Here are a few notes from a visit to Umbria this autumn.
Umbria, like neighboring Lazio, is overwhelmingly white wine territory. Its most widely planted white grape variety is also Italy's most planted white, known officially as Trebbiano Toscana. (This to the irritation of most Umbrians, by the way; Umbrians generally chafe when visitors situate them in Tuscany's shadow.) This member of what is now called the "Trebbiano Group" is responsible for at least 60% of Orvieto, and is a component in white wines up and down the country's peninsular length. Ian d'Agata's excellent Native Wine Grapes of Italy (2014) helps to sort the confusion among Trebbiani: the various members of the "Group" are not clones of a single variety but distinct varieties with little in common save spurious nomenclature.   For Umbria today, the good news is that Trebbiano Spoletino, another member of the Trebiano group but unrelated to Trebbiano Toscana, now attracts attention from local vintners, with good reason and results. This Trebbiano now appears to grow only in Umbria, especially between Spoleto and Montefalco, though it may or may not be genuinely autocthonous. It is far from ubiquitous, but single-variety Trebbiano Spoletino now shows up quite often on regional restaurant wine lists. Without seeking it out, I found it twice within a week. The first instance was Villa Mongalli's "Calicanto" Trebbiano Spoletino Umbria IGT 2016, a crisp but voluminous wine handsomely built of citrus and herbs, vaguely reminiscent of Sauvignon Blanc without Sauvignon's signature expression of methyoxypyrizines. Tank fermented and raised, the Calicanto comes from calcareous hills about 360 meters above sea level, between Bevagna and Montefalco. The second was two of the three white wines made by Antica Azienda Agricola Paolo Bea; the astonishing "Arboreus" Umbria Bianco IGT, which I tasted from the 2015, 2014, 2012 and 2011 vintages, and the nouveau-né "Lapideus" Umbria Bianco IGT, first made in the 2014 vintage. Both are, as far as anyone knows, "pure" Trebbiano Spoletino, the Arboreus from vines growing around 200 meters above sea level in the low hills between Montefalco and Trevi, while the Lapideus hails from 80 year old vines higher in the hills, closer to Pigge di Trevi. The 2015 Arboreus was savory and slightly nutty, like amontillado sherry, but also gritty, complete and kaleidoscopic. The 2014 was more about fruit peel and intensely aromatic, featuring lightly caramelized yellow fruits with giant complexity on the back palate. The 2012 showed orange- and tangerine-specific notes, as if citrus peel had been infused with verbena leaves to make an herbal tea. All these wines and the 2011 were made oxidatively, leaving the grapes to macerate on their skins for 22 to 36 days, and then leaving the new wine on the full lees for as long as 215 days! All are built with complex and dazzling structures from the extended skin- and lees-contact, while each remains memorably singular on its own. Astonishingly, all of Bea's whites hover around 12° of alcohol; these wines are intricate and complex, and almost crowded with flavor, but not "big." Like all Bea wines (see below for additional coverage), the fermentations depend entirely on naturally-occurring yeast and fermentation temperatures are not controlled.
Alongside Trebbiano Spoletino, Umbrian vintners are also working seriously now with Grechetto, though d'Agata makes clear that Grechetto is actually two unrelated varieties, so that even supposedly monovarietal instances may be cuvées in fact. Locals accuse Grechetto of being rustic, which is not unfair, but properly handled it can make quite serious and delicious wine: tense and mineral with hints of white flowers, citrus and apples, kept crisp with good acidity. My favorite during the October visit was from the Tili estate in Assisi: a 2015 Assisi Grechetto DOC. Two actually. The so-called "reserve" is made (exclusively?) for Enoteca Properzio, an wine store cum bar and restaurant in the heart of hill-perched Terni, while the straight version, less impressive and less overtly mineral, is an attractive "baby" version of the reserve — for about a quarter of its price.
On the red side of the Umbrian wine ledger, there is Sagrentino. As with many varieties believed native to Italy, its etymology, origins and original habitat are unknown, but there now seems to be more of it in Umbria than anywhere else. The variety is famous for its giant load of tannins and related polyphenols, and is slow and late to ripen, leading to wines that are often high in alcohol. But successful Sagrentino is also rich and flavorful – perhaps suggestive of what vintage-quality port could taste like if it were fermented to dryness rather than fortified to arrest fermentation. The aforementioned Arnaldo Caprai (Società Agricola Arnaldo Caprai) is often given credit for having reestablished Sagrentino's reputation in the last quarter of the 20th Century, his Montefalco Sagrentino "25 Anni" bottling often cited as the best example of the genre. (See Bastianich, Grandi Vini [2010] for example.) The 2013 vintage of this wine, also tasted at Enoteca Properzio, was rich, smoky and enormous, with cigar-box aromas and, true to form, a very grippy finish. It had also been "internationalized" by élevage in new oak barrels.
As with Trebbiano Spoletino, however, the most exciting expression of the variety, at least on this trip, was chez Bea. Bea makes three dry reds entirely from Sagrantino, while two other reds are mostly Sangiovese signed with small percentages of Sagrentino. Like the Bea whites, the Sagrentini are methodologically very similar to each other; their differences reflecting terroir rather than technique. "Rosso de Veo" is made from the younger vines in the Cerrete vineyard, which sits atop the hills west of Montefalco, at an elevation of between 370 and 450 meters, in marl and limestone soils mixed with uplifted alluvia. Even at 15° and totally ripe, this wine is electric at its edges, showing brightly, the 2010 saturated with red fruit flavors accented with nuttiness. In exceptional years only, Bea makes a second Sagrantino from Cerrete, built from its older vines The 2009 Cerrete was lovely, like a great Vosne-Romanée: seamless, strong, graceful, and symphonic. When Cerrete is not made, a third Sagrantino is the estate's flagship. This is Pagliaro, the name of another high elevation site, though a trifle lower than Cerrete. The 2010 vintage of this wine was deeply flavored and symphonic with impressions of moist earth and chocolate. Like the whites, all three Sagrentini feature exceptionally long vattings that extend well beyond the full length of the primary fermentation, before a first racking separates the new wine from grape skins and the heaviest detritus. This stage is followed by even more extended élevage, beginning with a year in stainless steel, then a year or more in large-format Slavonian oak tanks. A year or more in bottle before release is also normal.
Giampiero Bea is the man in charge at Azienda Paolo Bea since his father substantially retired. An architect by training, as is also his wife Francesca, Giampiero speaks slowly and respectfully about winegrowing that "assists nature," wines "with the taste of the earth," "technology that does not substitute for natural processes" and protocols that avoid "every artificial acceleration." Although sentiments of this sort seem to fit in Umbria, where roads wider than two lanes are the exceptions, towns are small, and population is spread thin, the Beas and their wines are really viticultural and enological outliers, marching to a drummer of their own. Their Sagrantinos seem almost comparable: just more seamless, symphonic, convincing, compelling – and released later – than other serious examples made across the Valle Umbra. But Bea's whites are something else entirely. No other Umbrian Trebbiano Spoletino or Grechetto is even recognizable alongside Santa Chiara, Arboreus or Lapideus. The latter may have a superficial similarity to so-called orange wines, or to late disgorged Champagne owing to their long contact with lees, but are singular in ways and to degrees that frustrate comparison, not only with other Umbrian whites, but with white wines of almost any provenance. They are sui generis. Singularity generally deserves applause in the wine world, especially as a contrast to the surfeit of homogenous wines in the marketplace. Still it can be hard to know what foods pair well with Bea's wines. While not unfriendly to food, especially Umbrian specialties like Norcian corallina or freshly grated white truffles – Bea's whites are objects of attention on their own, stealing oxygen from any comestible within reach. Nevermind. Try Bea's Sagrentini and his whites anyway if you have not already, in Umbria or in the foreign markets into which eighty percent of production is sold. (In the USA, the importer is Neal Rosenthal, contact info@madrose.com for additional information.)  Give the wines the concentration and attention they deserve, even if you need to sublimate truffles, salumi or some other comestible to make the necessary time and space.
Apart from  Paolo Bea there is plenty of tasty product in local wines stores and restaurant lists, much of which scores high on price-performance. And Umbria is rather a good place to discover art, enjoy an Indian summer, pass the autumn equinox, celebrate uncrowded towns, and unwind.